News & Events
Arcon Takes to the Ice
Arcon Forensic Engineers recently participated in the OIAA Hamilton chapter's annual curling bonspiel at the Burlington Golf & Country Club. Arcon's Jillian Leblanc (Collision Reconstruction), Randy Henderson (Client Management), Dayna Schols (Mechanical Forensic...(read more)
In The Community
For the past three years, Arcon's Linda Needham and her daughter Nikki, who teaches in Deer Lake, have coordinated the donation & delivery of clothing and school supplies to the Deer Lake First Nation community. Last week we received a wonderful surprise delivery...(read more)
Forensic Engineering of Traffic Signal Timing & Speeds...
Arcon's Daniel Couture will be a featured presenter at the National Academy of Forensic Engineer's winter meetings in New Orleans January 13th, 2017. Dan will present his paper on the "Forensic Engineering Analysis of Traffic Signal Timing and...(read more)
Happy Holiday Wishes from Arcon Forensic Engineers
The staff of Arcon Forensic Engineers would like to wish our clients, partners and friends in the insurance industry a very happy and safe holiday season and a wonderfully prosperous 2017!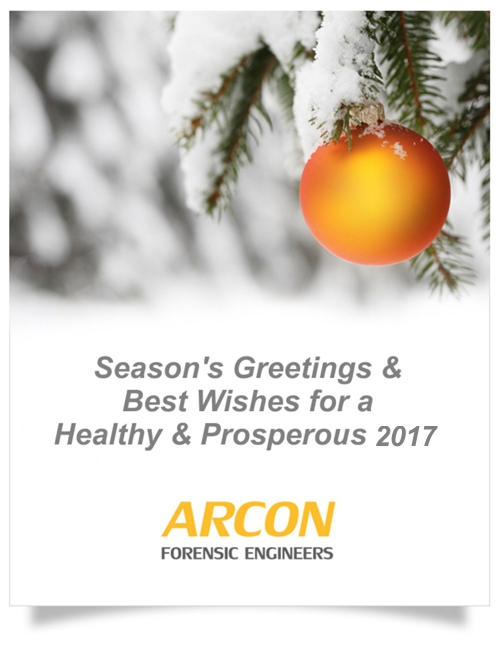 And This Year's Winner of the Arcon Forensic Engineers Academic Award At Fanshawe Is...
Each year Arcon Forensic Engineers sponsors an academic award for students in the Business Insurance program at Fanshawe College in London, Ontario. This year's winner is Tyler McNaughton. Not only has Tyler...(read more)
Top 10 Excuses For Not Wearing a Seatbelt...
You turn the ignition on and hear the engine roar to life, followed by the "beep, beep, beep" reminder to fasten your seatbelt. Most of us turn up the music and tune out the signal of one of the most important safety features in our car. This...(read more)
To speak with an expert, call
1-888-272-6671