To speak with an expert, call
1-888-272-6671
Our Forensic Expert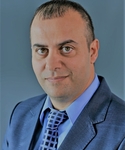 Ram Haddad
(416) 491-2525 x 35
(416) 491-2696
ram.haddad@arconforensics.com
print bio
Executive Summary
Ram has 20 years experience as a chemical engineer and forensic investigator with a specialization in fires and explosions in residential, commercial & industrial settings. His expertise covers the spectrum of activities associated with forensic fire investigations from scene inspection & evidence documentation through destructive & non-destructive testing to modelling of flame spread and the analysis of those results. In addition to having completed hundreds of investigations on behalf of insurance, legal & manufacturing clients, Ram is active with the Canadian Association of Fire Investigators as a Board Member of C.A.F.I. Chapter 006.
Areas of Expertise
Fire origin and cause investigation
Fire scene and evidence documentation
Explosion origin and cause investigation
Computer modeling of fires
Flame spread testing and analysis
Sprinkler system failure investigation
Motor vehicle fire investigation
Gas, oil & wood furnace evaluation
Qualification & Certifications
B.Sc. (Honours)
B.Eng. (Chemical)
P.Eng.
C.F.E.I.
C.V.F.I.
Professional Associations
Professional Engineers of Ontario
Association of Professional Engineers and Geoscientists of the Province of British Columbia
Association of Professional Engineers and Geologists and Geophysicists of Alberta
Association of Professional Engineers and Geoscientists of the Province of Manitoba
Association of Professional Engineers and Geologists and Geophysicists of NWT & Nunavut
Association of Professional Engineers and Geoscientists of New Brunswick
Association of Professional Engineers and Geoscientists of Newfoundland & Labrador
Association of Professional Engineers of Nova Scotia
Canadian Association of Fire Investigators
National Association of Fire Investigators
Publications & Presentations
To speak with an expert, call
1-888-272-6671